About Maria Montessori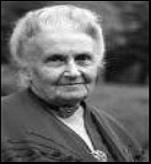 Born in Chiaravalle in the Province of Ancona in 1870, Maria Montessori was the first woman to practice medicine in Italy, having graduated from the Faculty of Medicine at the University of Rome in 1896. As a physician, Dr. Montessori was in touch with young children and became profoundly interested in their development. Through careful and exhaustive scrutiny, she realized that children construct their own personalities as they interact with their environment. She also observed the manner in which they learned as they spontaneously chose and worked with the auto didactic materials she provided.
Her approach to education stemmed from a solid grounding in biology, psychiatry and anthropology . She studied children of all races and cultures in many countries around the world, soon seeing the universality of the laws of human development played out before her. She continued her observations throughout her life, widening and deepening her understanding until her death in 1952.
About Montessori Philosophy

Early in the twentieth century, Dr. Maria Montessori, Italy's first female physician, developed educational materials and methods based on her belief that children learn best by doing, not by passively accepting other people's ideas and pre-existing knowledge. It was an innovative learning idea and means the active personal pursuit of many different experiences: physical, social, emotional, and cognitive. With the materials Montessori devised, an environment in which such learning takes place can be created. Montessori believed learning should occur in multi-age classrooms where children at various stages of development learn from and with each other. Her developmentally appropriate approach was designed to fit each child instead of making each child fit the program.
Global Children Montessori School is a preschool with Montessori philosophy and curriculum, to help meet the need in the community for quality physical care and education of children ages from 3 to 6.
The Global Children Montessori School educates the whole child, nurturing the love of learning that lies within. The work of the children reveals curiosity, involvement, creativity, thoughtfulness, enthusiasm, and self-discovery – all facets of learning that the Montessori philosophy develops so fully. Following the principles of Dr. Maria Montessori, an atmosphere for personal growth is created and children blossom in this environment.