Our History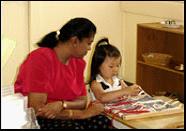 Global Children Montessori School is a private Montessori School with two classrooms, serving children approximately of age three to six years. We opened in March of 2003, as a family day care with one child. We grew gradually and because of huge need from the community, we moved into a community building in April 2005. In November 2013, we moved into our own brand new building in Ellicott City and continues to educate young children.
We want your kids to excel in all areas, so we have created a wide variety of activities that will encourage optimum learning and will nurture their talents and skills. Our comprehensive curriculum is carried out by our experienced and dedicated staff.
Global Children Montessori understands that more than the intellectual advantage, good values re also essential in molding your kid's character. All our activities are created not only to nurture their knowledge but also to help them value life with equal respect and dignity.